Fly across crystal clear waters on our Mastercraft® ski boats and top-of-the-line water ski gear. Whatever your knowledge of ski, your age or your expectations we have something for everybody. Our instructors will give you a thorough training session to make sure you have a safe and fun experience.
LEARN WATERSKI IN PROTARAS
Whether you are a beginner or an experienced skier, we will provide you with personal guidance to help you progress effectively.
To begin, you start in the water, your feet fixed to the skis, your hands hooked to the rudder, the boat moves forward…you stand up and just enjoy the glide and the crystal clear water! Once at ease and well stabilized, you will learn to hold a relaxed posture and to link turns, jumps and tricks… and why not monoski.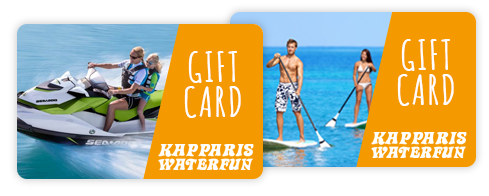 Send or print an e-gift card !
Send a watersports activity gift card of your choice with a KapparisWaterfun gift voucher! The perfect present for anyone and any occasion.