This great looking pedal boat guarantees lot's of fun. With it's built in water slide it is ideal for kids and teenagers alike. It can carry up to 5 passengers and is easy to navigate. The perfect activity for all the family! You can dive and slide down the slide. Pedal boat is the favourite activity for children, teenagers and parents…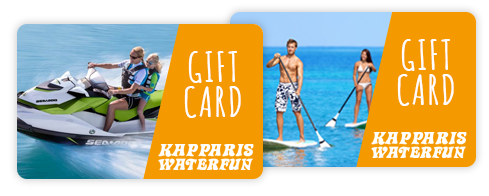 Send or print an e-gift card !
Send a watersports activity gift card of your choice with a KapparisWaterfun gift voucher! The perfect present for anyone and any occasion.